by Cathy Bruneau


Mini Minimarket
We know, we know. By designating this a "holiday" shopping guide, we've chosen sides in the big "Holiday Friend or Foe" debate. Truth be told, we could care less about the whole controversy. Call it The Williamsburg Christmas Guide if you prefer. Call it The Billyburg Hipster Guide. Rename Christmas "Freedom Day" if you want. It's all the same to us. We only celebrate Festivus anyway.
The controversy we do care about, involves the MTA's shoddy service. Slow weekend commutes and service interruptions are hardly mollified by the fare reductions. We'll pay the extra dollar, just provide better service.
Luckily, we can get all of our shopping done right here in the 'hood. Who wants a cashmere sweater from J Crew anyway?
Plus, in Williamsburg, you get the added pleasure of hearing hipsters debate whether to buy Care Bear belt buckles or limited edition Belgian screamcore CDs as stocking stuffers.
Here's a list of some great local places to do your shopping:
—————————————————-
Clothes and Shoes
—————————————————-


Brooklyn Industries
Brooklyn Industries
www.brooklynindustries.com
162 Bedford Ave at N8th
718.486.6464
Mon-Sat 11-9pm, Sun 12-8pm
One of the first shops to bring life to the neighborhood, this is the Williamsburg Gap. But better indeed, this place is "the" maker of the Brooklyn tee for the masses. Aslan the tiger, the Brooklyn water tower, the L train are among many of its notable symbols. But wait, there's also cords and jackets for men & women, exclusive messenger bags & wallets, jeans, kids tees – all made by the Industries brand. Leather bags are at 40% off for the holiday season. Promote Brooklyn for Christmas and get those T-shirts for the whole family.
Other Brooklyn Industries location:
184 Broadway at Driggs
718.218.9166


Oak & Brooklyn Flat
Oak
150 1/2 Ainslie Street btw Lorimer & Leonard
718 782 3632
Tues-Fri 1-8, Sat 11-8, Sun 11-6
Need something special for the man in your life? You'll certainly find fashionable menswear and toiletries with a British bent in this cute little shop. Sweaters, shirts and jackets by Penguin and Ben Sherman, wallets, restrained yet imaginative cufflinks and ties. Modern fashions straight from the British Home Counties. For women's fashions check out Oak's sister across the street at Canary.


Canary
Canary
145 Ainslie Street btw Lorimer & Leonard
718.782.0521
Tues-Fri 12-7pm, Sat 11-8pm, Sun 11-6pm
This lovely shop and friendly staff will help you peruse through its unique collection of womenswear by local designers at affordable prices. Enveloping tube scarves made from Alpaca wool nestle next to imported French jackets and tops. Lovely belts and bags available too. The owner has a second shop in Park Slope of the same name.


Lawanna's
Lawanna's
196 Bedford Ave btw N7th & N6th
718.302.0006
Mon-Sat 1-7pm, Sun 1-6pm
Yet another Bedford Ave local, this small shop will satisfy the rock star in you. You will find a huge selection of brass belt buckles and unique belts as well as T-shirts and a vast selection of shoes and sneaks. You'll find something new every time you wander in.


Otte
Otte
132 N5th Street inside mini mall
718.302.3007
Mon-Sat 12-8pm, Sun 12-6pm
A small and tidy shop, this is a great place to find contemporary fashions for women. Designers such as Wrangler, Seven, and Velvet line the racks along with many other Californian designers. You will find one of a kind designs great for all your hipsters as well as shoes and bags. Maybe you could buy yourself that Christmas gift you always wanted.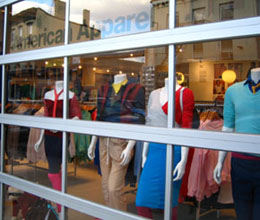 American Apparel
American Apparel
www.americanapparel.net
104 N6th Street btw Berry & Wythe
718.218.0002
Mon-Thurs 11-9pm, Fri-Sat 11-10:30pm, Sun 11-9pm
If you hipsters have never been into an American Apparel, then you are missing out on a T-shirt layering paradise. Recently added to the streets of Williamsburg, this American staple is your shop to get every cotton possibility in every color you can think of. You never know when you'll need that long sleeve tee for your awesome I Love Bush iron-on. Show your artistry and make your family silk screen T-shirts for Christmas with AA tees.


Pema
Pema
225 Bedford Ave btw N4th & N5th
718.388.8814
Daily 11-8pm
A shop started by Pema Kongpo who sells her brother's hand-made designs and other various well cut clothing lines for men & women at affordable prices. For those who love all things Hippiesque, nothing seems to be over a $100. Great use of silk, cute handbags, knitwear, hats, beaded shoes, and lots of imported Indian style jewelry.
If you are searching for more designs made by her brother, try their sister shop Tibet Boutique in the mini mall opposite. Here you will find the complete Pema line along with beautiful jewelry, stationary and other silk items and dresses.


Tibet Boutique
Tibet Boutique
www.tibetboutique.com
218 Bedford Ave inside Mini mall
718.302.8830
Mon-Fri 12-8pm, Sat-Sun 11-8pm


Triple Five Soul
Triple Five Soul
www.triple5soul.com
145 Bedford Ave Entrance on N9th
718.599.5971
Daily 12-8pm
Yet another small chain exclusively from New York, this brand has managed to keep a selective profile among the urban gang. You'll find sweatshirts with the embroidered Triple Five logo, a great selection of shirts and cords for men and wooly sweaters, shoes and bags for the women, all at affordable prices. Take note of the Holiday coat sale – 25% off this season's must have: furry hooded parkas.

Jean Bar
116 N 5th Street btw Bedford & Berry
718.302.6525
Tues-Thurs 12-7pm, Fri 12-8pm, Sat 12-9pm, Sun 12-6pm, Closed on Monday
A place where the name says it all, you will find a great selection of brand name jeans for a fraction of the costs of high street prices. Names such as Miss Sixty and Vigoss line the shelves as well as various other brands of clothes. Make sure you add this to your list of locations to check out this Christmas.


Nom De Guerre
Nom De Guerre
www.nomdeguerre.net
88 N6th Street btw Berry & Wythe
728.387.3363
Mon-Sat 12-8pm, Sun 12-7pm
Another newcomer along N6th Street, this massive space houses a unique line of men's clothes for those who may have the cash to spend this winter. The designs are minimalist, crisp and display a Japanese touch for urban wear. Cashmere sweaters, V necks, along with great jeans and tees line the back wall. Gallery like and sparkling, the shop even sports a line of Nike shoes to go with its house brand.


Sleep
Sleep
110 N6th Street btw Berry & Wythe
718.384.3211
Daily 12-8pm
In a quiet corner of Williamsburg everyone needs their sleep. This shop can help you do just that. Boys, you may want to show how much you love your girlfriends by popping by and selecting some sexy lingerie. If that gives you cooties, then just choose a bathrobe and slippers or perhaps the lovely cotton bedding that decorates one of the two comfortable looking beds. Everybody needs a little luxury over Christmas.
Noisette
www.noisettenyc.com
46b N6th Street btw Wythe & Kent
Mon, Wed, Thurs & Sun 12-7pm, Fri -Sat 12- 8pm, Closed on Tuesday
For a more European edge to your wardrobe, try hitting this little place that arrived a little over two months ago. Shop owner, Stephanie, decided that it was time to share her love for Euro fashions here in Williamsburg. One of kind clothes may justify the stiff prices. We certainly hope that Santa will shop here.
George Miu
112 N6th Street btw Berry & Wythe
718.666.0194
Mon-Tues 4-9pm, Wed-Thurs 2-10pm, Fri-Sat 1-11pm, Sun 1-10pm
If you just can't keep away from shoes, get your man to get you a pair of red cowboy boots from George Miu. Shoes made exclusively by the designer, Nahman Susar, these leather delights come in all colors and shapes with bags to match. Great use of silver and gold and comfortably designed flats for those who find heals to be a nightmare. Make sure to take up the Holiday sale- Buy 2 get 1 free.


Challengher NYC
Challengher NYC
555 Metropolitan Ave btw Union & Lorimer
718.387.6228
Wed-Sun 12-7pm
For unique Christmas gifts made locally, the shop owner/designer sells plenty of inexpensive tees & dresses, scarves, sweaters and underwear. Challengher logo'd bags and pillow cases round off a cute display window.
And why not get your Christmas coif done next door at Lilypad 718 387 9337


Pop
Pop
www.shoppop.com
310 Grand Street btw Havemeyer & Roebling
718.486.6001
Mon-Sat 12-8pm, Sun 12-6pm, May possibly close Tuesdays
Why go into Manhattan when you can Christmas shop at this recently opened trendy store for men and women. Threads from Ben Sherman, Dickies, Wrangler, Free People, to name a few, sit next to local brands. Inexpensive yet extensive selection of bags, shirts, tees and beauty products. Take note of Satellite radio playing in the shop.
—————————————————-
Wine/Cheese/Food
—————————————————-
Bottle Shoppe
www.bottleshoppe.com (not active yet)
353 Graham Ave btw Metropolitan & Conselyea
718.388.4039
Mon 4-10, Tues-Thurs 11-10, Fri-Sat 11-11, Sun 1-9
You'll find a nice selection of American and European wines and Champagne with $25 and $50 gift certificates also available. They carry lovely material gift bags and gift ideas as well as a selection of Sake. Knowledgeable staff runs wine tasting during the holiday season. Call for details.
Other location at:
301 Bedford Ave btw S1st & S2nd
718.302.3433
Mon 4-10, Tues-Thurs 12-10, Fri-Sat 12-11, Sun 1-9
Delivery with purchase over $25
Other local wine shops: (call for wine tasting times)
Uva Wines
www.uvawines.com
218 Bedford Ave inside mini mall or entrance on N 5th
718.963.3939
Trojanowski Wines
www.north7wines.com
181 Bedford Ave at N7th
718.388.8488
Allman Fine Wine and Liquors
www.allmanliquors.com
268-270 Grand Street at Roebling
718 388 8872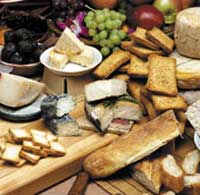 Bedford Cheese Shop
Bedford Cheese Shop
www.bedfordcheeseshop.com
218 Bedford Ave inside mini mall
718.599.7588
Mon-Sat 10-9pm, Sun 10-7pm
For those who don't already know, this cheese shop is the cheese shop of cheese shops. A great place to get penicillin for a party or perhaps a gift basket custom made by the friendly staff. Not only for cheese lovers, this shop has many gourmet specialties for every taste: from tea to biscuits to Christmas cake to jams, you name it. Don't know what to get your aunt this Christmas? You'll know now.
Fortunato Brothers Bakery
289 Manhattan Ave at Devoe
718.387.2281
Sun-Thurs 9-11pm, Fri-Sat 8-12pm
Waistline endangering selection of Italian cookies, cakes, pastries and coffee fill this local favorite neighborhood bakery. Specialty cheesecakes fill the window display whilst chocolate assortments are piled inside. Great selection of Imported Italian Christmas cakes and chocolates by Vergani etc… are available for those who may be throwing a Christmas party or to give as a great post dinner gift.
—————————————————-
Pets
—————————————————-
PS9 Pets
www.ps9pets.com
169 N9th Street btw Bedford & Driggs
718.486.6465
Mon-Fri 12-9pm, Sat 12-8pm Sun 12-6pm
Petco eat your heart out. PS9 has all sorts of doggie sweaters and cat collars, blankets and sleeping beds. You may even find a lovely stylish kitty carrier for your friend's feline. Don't forget that Fido wants his treats too this Christmas.
—————————————————-
Local Artists
—————————————————-
Artists and Fleas
www.artistsandfleas.com
129 N6th Street btw Bedford & Berry
917.541.5760
[email protected]
Sat-Sun 12-7pm (but for the next two weeks until Christmas- will be open Wed to Sun)
A neat find, this artist's indoor market is the perfect place for Christmas bargain hunting. A collection of local artists including Jen Mazer, Lisa Medoff, Love Shine to name a few, you will find beautiful and distinctive jewelry, knits, silk screen T-shirts, books, handmade bags and other gifts. You most definitely can complete your shopping list in one afternoon as well as buy something for yourself before leaving.
One Sixty Glass
www.onesixtyglass.com
160 Berry Street btw N4th & N5th
718.486.9620
If you want to be the coolest friend on the planet, why not give the gift of a glass blowing class. Glass blowing classes run over six weeks and there are gift certificates available. If the classes seem a bit steep, then there are plenty of vases, drinking glasses and various colorful glass items for sale at reasonable prices. At least you can say it was made in Williamsburg!
Brooklyn Flat
150 Ainslie Street btw Lorimer & Leonard
718.302.2138
[email protected]
Tues-Fri 1-8, Sat 11-8, Sun 11-6.
A nifty store peddling daintily decorated ceramics, glass and tableware and beautifully designed jewelry by local artists all housed cozily in a converted barn. A few note cards, quirky calendars, and gifts for pet lovers too. Connected to Oak next door.
Maiden Brooklyn
252 Grand Street btw Driggs & Roebling
917 379 1111
Sun-Thurs 2-8pm, Fri-Sat 2-9pm
Once a gallery, this stylish shop still feels as if you are walking into an art mecca. The owners thought it would be a great idea if they could sell what they made. Still a working gallery at the back, they sport nice silk-screen t-shirts and accessories.
—————————————————-
Bikes and Skateboards
—————————————————-
Spokes & Strings
www.nycbikes.com
140 Havemeyer Street btw S1st & S2nd
718 599 2409
Tues-Fri 11-7pm, Mon & Sat 8:30-7pm, Sun 11-5pm
Want a Bike for Christmas? A great way to be environmentally conscious this year, why not check out the line made exclusively in store. If a bike seems a bit much, there are always loads of accessories you can give your bike mad beau without going over budget.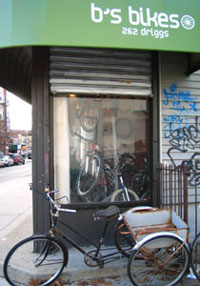 B's Bikes
B's Bikes
262 Driggs Ave corner Eckford
718.349.1212
[email protected]
Mon, Wed-Fri 1-9pm, Sat 12-9pm, Sun12-8pm, Closed Tuesday
Just opened and sells tons of used but refurbished bikes at great prices.
KCDC
www.kcdcskateshop.com
99 N10th Street btw Berry & Wythe
718 387 9006
Mon-Sat 12-8pm, Sun 12-7pm
For those into skatewear and gear, this place has a huge selection of T-shirts, sneakers by the dozens and loads of skateboards and accessories to boot. You can even try your hand at the indoor Skate ramp. Everything is reasonably priced and there are selections for both men and women. Beats heading for Lafayette Street this Christmas.
—————————————————-
Vintage
—————————————————-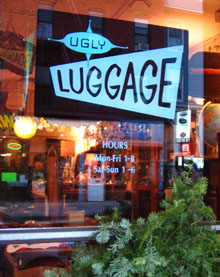 Ugly Luggage
Ugly Luggage
214 Bedford Ave (btw N5th & N6th)
718.384.0724
Mon-Fri 1-8pm, Sat-Sun 1-6pm
A Bedford Ave staple, this little vintage shop has been the place to get used furniture, housewares and luggage for the last 15 years. You can find some beautifully decorated table lamps, small desks, chairs as well as the odd standing globe. Glasses line the back wall decorated with beautiful flowers, bubbles, and even sunsets of Miami for lovers. Everything is realistically priced and wonderfully distinctive. Give the gift of Ugly Luggage.
Ghostown
www.ghostownnyc.com
335 Grand Street btw Havemeyer & Marcy
718 387 0990
Daily 12-8pm
A true blooded vintage store, this is a giant but organized space. Everything is reasonably priced and there is a great deal of well designed rags to choose from. The shop even sports a few of its own designed shirts on circular racks at the front. Take note of the pre-holiday sale, 40% off all tees and 20% off everything. Discounts we can certainly use this year.


Beacon's Closet
Beacon's Closet
www.beaconscloset.com
88 North 11th Street
718.486.0816
Mon-Fri 12pm – 9pm
Sat, Sun 11am – 8pm
The quintessential Williamsburg vintage clothing store.


Maiden Hong Kong
Maiden Hong Kong
502 Lorimer Street at Powers
718 388 8885
Daily 12-7pm, Closed Mondays.
Beautiful vintage clothes restored by the owner for men and women with an Asian twist. Gorgeous but incredibly affordable selection of used jewelry and cufflinks nestle next to Japanese dresses and cards. Tailoring and alterations are also undertaken. A gem of a store in a funky little corner of Brooklyn – around the corner from Brooklyn Flat, Oak and Canary on Ainslie.
Catbird
www.catbirdnyc.com
390 Metropolitan Ave btw Havemeyer & Marcy
718 388 7688
Mon-Fri 1-9pm, Sat-Sun 12-8pm
This quaint shop has a great selection of vintage jewelry, bags and shoes of all kinds. There are gift cards and watches to ogle over and despite the shops tiny size you could spend all afternoon finding something new. A great place to stop in for gifts this Christmas that you cannot miss off your list.
—————————————————-
Music and Books
—————————————————-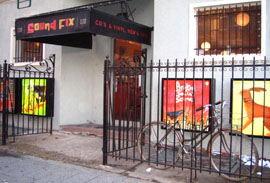 Sound Fix
Sound Fix (music)
www.soundfixrecords.com
110 Bedford Ave corner N11th
718.388.8090
Mon-Sat 12-8pm, Sun 12-6pm
Why head for Virgin when there's music right around the corner? A little over a year old, Sound Fix is what Brooklynites like best- A CD, vinyl & coffee shop. There's something for every musical taste from groove, hip hop, rock and electronica, all new and used and at high street prices. Listening stations line the front of the store and a selection of magazines such as Wire and Filter etc… are also on sale. And don't forget to get your best friend those tickets to that gig at N6th this holiday season.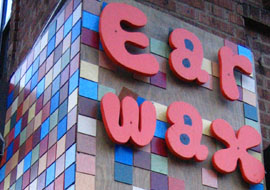 Earwax
Earwax (music)
218 Bedford Ave. at North 5th Street
Inside the Mini Mall
718.486.3771
Mon, Thu and Sat, 11am-9pm; Tue, noon-9pm; Wed and Sun, noon-8pm; Fri, 11am-8pm
New and used CDs and a great selection of used vinyl. Perfect for emo, indie, and electronic fans. For a small shop, they have a great selection.


Spoonbill & Sugartown
Spoonbill & Sugartown, Booksellers
www.spoonbillbooks.com
218 Bedford Avenue (near N. 5th Street in MiniMall)
718-387-7322
One of two great independent bookstores in Williamsburg. Who needs Barnes & Noble?


Clovis Press
Clovis Press
229 Bedford Ave at North 5th Street
718-302-3751
The other great independent bookstore in Williamsburg.
—————————————————-
Babies
—————————————————-


Sam & Seb
Sam & Seb
www.samandseb.com
208 Bedford Ave btw N6th & N5th
718 486 8300
Mon-Wed 11-7pm Thurs-Fri 11-8pm, Sat 10-8pm, Sun10-7pm (Christmas week 10-10pm)
Wonderful little children's shop, this store is filled with goodies for all the young-uns in your life. From games, toys, puzzles and stuffed animals to clothes for babies and kids, hand knits, children's umbrellas and even tiny tutus for girls who want to be aspiring ballerinas. No need to shop at Gap kids this year when you can get an exclusive gift right in your neighborhood.
Flying Squirrel
www.flyingsquirrelbaby.com
96 N6th Street btw Berry & Wythe
718 218 7775
Sun-Thurs 11-7pm, Fri-Sat 11 -8pm
Need a distinctive baby gift for your sister? Come and browse through a huge selection of second hand and nearly-new baby and kid's clothes. You may just find a crib or rocking horse as well, that won't take you over budget. This shop will buy and resell all children's wear and items. A great way to off load those outgrown PJ's and get a Christmas gift as an exchange.
—————————————————-
Spa, Health, and Skin Care
—————————————————-
CeleBritAy
358 Grand Street btw Havemeyer & Marcy
718 384 0914
Thu-Fri 12-9pm, Sat 4-10pm, Sun 12-8pm
Just opened in November, this beautifully designed nook found in a quiet corner of Grand Street has a great selection of Bath & Spa products for those who love pampering at home. Liz, the shop owner and magician behind the products, created her own line, extremely affordable and all made from scratch in her own shop. She has a wealth of skincare knowledge and can give you a great deal of advice for your personal skin type. Don't forget to ask about her custom made gift baskets for Christmas. Unique to Williamsburg, this shop is a breath of fresh air, surrounded as it is by vintage shop mecca.
Happy Now Flat Belly
www.happynowflatbelly.com
583 Driggs Ave Entrance on N6th
718 218 9601
Give the gift of a flat belly. This Pilates center has been the result of many a flat tummy in Williamsburg for the last few years. Classes are open to all levels. Get your friend a 10 class card this Christmas and you'll feel good knowing that that flat stomach was part of your hard work.
Downtime Spa
www.downtimespa.com
115 N7th Street btw Berry & Wythe
718 218 9680
Tues-Fri 11-9:30pm, Sat & Sun 10-6pm
A center for relaxation, this little piece of paradise is a haven for everyone in the burg. From Thai massage to stone therapy to facials and even hairstyling, you can select from great packages all year long. Try the chocolate raspberry pedicure for yourself. Downtime will take groups and also offer many gift certificate options perfect for gift giving. Stop by and see what they have in store.
Mirror Mirror
www.mirrormirrorny.com
318 Bedford Ave btw S1st & S2nd
718 388 0149
Mon-Thurs 12-8pm, Fri-Sat 12-9pm, Sun 12-7pm Closed Tuesday
An incredible store that sticks out from the rest, this place has a wonderfully unique range of beauty products for both men & women. The store owner sells hard to find products that you may not get in any old Sephora and at incredibly reasonable prices. Check out the Art of Shaving line and Histoires de Parfum sold exclusively from here in the US. Make sure to check in this Christmas.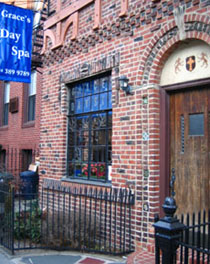 Grace's Day Spa
Grace's Day Spa
582 Leonard Street btw Nassau & Norman
718 389 9789
Mon-Fri 11-8pm, Sat 9-3pm
This day spa located near McCarren Park has been a favorite of locals for the last 8 years. Grace, known for her relaxing treatments, is an expert in all types of skin care for men & women, from your basic facial to hair removal, laser acne treatment, endermologie and microdermabrasion and at a quarter of the costs in Manhattan. Grace can advise on the best methods for your skin. Gift certificates and packages are available and a whole range of Phytomer products are great for gift giving.
Run by Grace's husband around the corner is the 111 Nassau Clinic. If you are interested in dermatology, mesotherapy or other cosmetic procedures, these doctors have an incredible wealth of knowledge and offer gift certificates for the holidays.
111 Nassau Clinic
111 Nassau Ave btw Leonard & Eckford
718 349 2349
Siss Nails & Spa
729 Metropolitan Ave btw Manhattan & Graham
718 599 5239
Mon-Sat 9:30am-8pm, Sun 10 – 6pm
For those who would like to give the gift of beautiful nails, this would be the place. Brand new and sparkling, this nail spa has gift certificates and packages perfect for gift giving. And perhaps you may need a polish while vigorously shopping at your local shops this Christmas. Waxing is also on the list of services if you feel the need.
—————————————————-
Miscellaneous
—————————————————-


Mini Minimarket
Mini Minimarket
www.miniminimarket.com
218 Bedford Ave entrance to Mini Mall
718 302 9337
Mon-Fri 12-9pm, Sat-Sun 12-8pm
A great place to begin since its inside the Mini Mall, next to dozens of other great stores. Knock off gifts for everyone on your list at Mini Minimarket. From shoes to locally designed clothing, jewelry, beauty products, T-shirts and even joke type gifts great for Secret Santa. If you need to get ideas for your sister or brother or even something small for a friend, this place is always a great place for fun gifts.
Mikey's Hook Up
www.mikeyshookup.com
351 Graham Ave btw Metropolitan & Conselyea
718 384 3800
Daily 11-7pm
Why head for the Apple store or J&R this year? Closer to home, this little technological paradise is gadget heaven for the audiophile. An authorized Apple reseller, they stock iPods, accessories (covers, car adapters, chargers) and Macs. There is also a selection of audio recording equipment including soundcards, mixing boards and synths. Your techie friend will love you this Christmas.
Other location at:
218 Bedford Ave inside mini mall
718 599 8906
Daily 10-8pm


Red Pearl
Red Pearl
202 Bedford Ave btw N6th & N5th
718 599 0023
Mon-Sat- 11-9pm, Sun 11-7pm
You may have walked by several times but this time, why not walk in. This shop located close to the L train carries a beautiful line of clothing for women, but it doesn't just stop there. As well as jewelry, there are plenty of kitchen and home gifts including cutting boards and picture frames. You will also find candles, beauty products and even fluffy bath robes – your girlfriend will love you forever.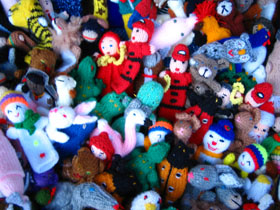 Love Shine
249 Grand Street btw Driggs & Roebling
718 302 2913
Sun-Thurs 1-8pm, Fri-Sat 1-10pm
The most incredible store you will find in Williamsburg will capture your imagination. Run by Alex from Barcelona, this heavenly shop has plenty of unique gifts for all that you know. Take note of the whole wall of beautiful Milagros (miracles), small hearts sculpted from various metals then painted or shined, each made by specific families imported from Germany, Mexico and Peru. Alex and his staff also design and hand make all the bags throughout the store. Or perhaps the finger puppets will capture your heart. Everyway you turn you will find something ultimately spectacular and all with a distinctive origin or story.


Spacial
Spacial Etc.
www.spacialetc.com/spacial/main.html
199 Bedford Ave at N6th
718 599 7962
Mon-Sat 11-9pm, Sun 12-8pm
A wonderful little place that's been on a corner of Brooklyn for a few years now, a husband and wife team started by selling the many knits they crocheted at home. It since has turned into something special. Cute home gifts, beautiful designer bags and wallets, and Camper shoes and boots of all sorts are among a few of the items sold here along with the beautiful knitted hats, gloves and sweaters by the shop brand, Brooklyn Handknit. It's a bit expensive though.
CB I Hate Perfume
www.cbihateperfume.com
93 Wythe Ave at N10th
718 384 6890
Tues-Sat 12-6pm, Sun 2-5 (1-6pm during Dec Christmas period)
Do you know what smells you like? Perhaps not on you, but on someone else? Enter this shop and Christopher Brosius will custom make a perfume of your choosing. If that is not up your sleeve, there are plenty of house made perfumes to choose from as gifts for your girlfriend/boyfriend/mom etc… along with home scents to match.