It's hard to believe that 2004 is finally coming to a close. The Bush election was painful, but it was a tough year all around. Old Dirty Bastard died. So did Rick James. And Dimebag Darrell's death last week was the final, morbid icing on the cake. Rest in peace guys. We're ready for a sunnier 2005.
Musically speaking, it was a disappointing year as well. Everyone we talked to when conducting this poll agreed: there weren't enough standout releases in 2004. TV on the Radio, who earned our number two spot last year with their debut EP "Young Liars," failed to impress us with their spotty full length Desperate Youth, Blood Thirsty Babes. Interpol gave us too much of the same with Antics. (Like many New York bands, TV on the Radio and Interpol both suffer from stellar-EP/anticlimatic-LP syndrome). And Jeff Tweedy continued to ruin his band by including self-indulgent, pill-induced bursts of noise on his records.
In 2004, critics and fans curiously fixated on the word "angular" when describing bands that sound like Gang of Four (see Bloc Party, Futureheads, Moving Units). Art school folkies continued playing whose-the-most-avant-garde table tennis (yes you Bright Eyes and Animal Collective). And New York failed to decide upon a new "it" band to get Rapturous about. The most exciting thing about 2004 in fact, was the Pixies reunion tour. We'd wager that half the people reading this article caught at least one Pixies show, not to mention shelled out 30 bucks to buy the respective live release.
Here at FREEwilliamsburg, we often found ourselves pulling out our old Kinks, Television, Steely Dan, Captain Beefheart, and Ralph Stanley records, frustrated by our inability to find anything truly great in the new release section of Other Music. The critics at FREEwilliamsburg all had different opinions about what should make our Best of list, but we all agreed on two things: 1.) Toad the Wet Sprocket still holds the title for worst band name ever and 2.) 2004 was a mediocre year for music.
But, of course there were highlights ….

FREEwilliamsburg's Best in Music 2004




25. Weird War
If You Can't Beat 'Em, Bite 'Em
(Drag City)
When we heard that The Make-Up was breaking up several years ago we were devastated. Thankfully, Ian Svenonius and Michelle Mae continue to pump out the hits under different monikers. This year, they called themselves Weird War. Last year they were The Scene Creamers. We don't care what they call themselves as long as they keep kicking ass. Their high energy blend of Motown, funk, gospel and punk transports us to some inverted parallel universe where it's always 1967 and the Punk movement just conquered the US.
———————————————————



24. Luomo
The Present Lover
(Kinetic)
The first disk by Vladislav Delay under the Luomo moniker (Vocal City) is the one of the best House disks ever made. It was a glitchy, dub-inflected masterpiece. Vocal City was also a fluke since it was intended as a slight side project for the Helsinki-based techno artist. The long-awaited follow-up, The Present Lover is more accessible but not quite as essential. It features more straightforward pop hooks and vocals than its predecessor. Fans of minimal, spacious House music may feel a bit short-changed by this disk when comparing it to Vocal City, but it is nevertheless a danceable delight. Funky, sexy, and a little less patient that Vocal City, The Present Lover would be considered a great record if released by any other artist.
———————————————————



23. Sonic Youth
Sonic Nurse
(Geffen)
Everyone needs to cut Sonic Youth some slack. In their heyday, Sonic Youth pushed the envelope with each new record. Now, they're getting older and notably less experimental.

Sure, Sonic Nurse isn't the most groundbreaking record they've ever made, but it is one of their most accomplished. Their songwriting has rarely been stronger and Jim O'Rourke's Seventies-pop influence is more notable than usual. Sometimes it's just nice to sit back and watch Sonic Youth do what they do best — create good, old-fashioned dissonant pop.
———————————————————



22. A.C. Newman
The Slow Wonder
(Matador)
All of the other New Pornographers have recorded solo releases so it was time for frontman Carl Newman to follow suit. The Slow Wonder begins with the too catchy, "Miracle Drug," and never lets up. The record is a melodic treasure that manages to do the unexpected; its better than the last New Pornographers release. Now if Alt-Country bandmate and indie sex goddess Neko Case would hurry up and release another record we'd be complete.
———————————————————



21. Califone
King Heron Blues
(Thrill Jockey)
The most underrated band in indie, Califone bring us yet another weird and innovative jam session with King Heron Blues. Blending Blues, Country, and backwoods Americana with subtle electronic textures, Califone is one of a kind. We can only hope that they'll get the attention they deserve on their next release. Keep it up, we're listening.
———————————————————



20. The Futureheads
The Futureheads
(679)
The Futureheads scared us at first. I mean come on… what's up with the cheesy name and the horrible cover art? As our friend George pointed out, nobody's using the name "Slut Patrol" yet. Couldn't they choose a less hokey band name? Nevertheless, the record kicks ass. It's catchy, strangely danceable, and has that, um, "angular" guitar dynamic that The Rapture reintroduced to the current indie palate. OK, we promise not to say "angular" again in 2005.
———————————————————



19. Jóhann Jóhannsson:
Virðulegu Forsetar
(Touch)
Icelandic composer Jóhann Jóhannsson had an intimate, heart-to-heart talk with his country's cold, bleak landscape. He convinced said landscape to come into the studio. He then recorded their conversation and wrote a minimal, yet powerful symphony. This is a beautiful and calming record. The best "background noise record" of the year.
———————————————————


18. Bonnie "Prince" Billy
Greatest Palace Music
(Drag City)
Some people love the lonesome, raw vocal style of early Will Oldham from his Palace days. Others prefer his newer, slicker releases recorded under the Bonnie "Prince" alias. Greatest Palace Music received mixed reviews for this very reason. A reworking of his best songs from the Palace days, Greatest Palace Music sees Oldham adding sugary sweetness and a studio-enhanced crispness to his classic material. The new interpretations are consistently less compelling than the originals, but that's beside the point. The record is enjoyable from start to finish and stands on its own as a separate work. The studio players on this recording are all Nashville legends, helping to secure this record as one of the year's best releases. (Read our interview with Oldham)
———————————————————



17. Rogue Wave
Out of the Shadow
(Sub Pop)
There wasn't a new Shins record this year. Thankfully, we had Out of the Shadow to fill the void. Thanks, Sub Pop, for giving us this treat to hold us over. After listening to Shutes Too Narrow too many times, Out of the Shadow, is a worthy if lesser substitution. We love the chorus of "Be Kind & Rewind:"
"You can all get in line/lick my behind"
———————————————————



16. Deerhoof
Milk Man
(Kill Rock Stars)
Inspired by the art of Ken Kagami whose work graces the cover, Milk Man finally brought Deerhoof some recognition in 2004. A weird concept album that mixes noise and pop, Milk Man is Deerhoof's strongest release to date. This band just keeps getting better. (Read our interview with the band)
———————————————————



15. PJ Harvey
Uh Huh Her
(Island)
This was a year when people were so obsessed with finding the next "it" band, they ignored tried-and-true greatness. Most even ignored PJ. We love you PJ. And we love your record. (Don't quit touring!)
———————————————————



14. The Streets
A Grand Don't Come for Free
(Vice/Atlantic)
The first sounds on A Grand Don't Come for Free are big horns and the lyrics '"It was supposed to be so easy…" We have the second record by Mike Skinner. It's a concept album. One day in the life of a geezer, literally. This is Mike Skinner's Ulysses, his Tommy. It's also a little darker and more "mature" than the first record. Not as "fun." Skinner frustrated our expectations, but in a good way. Original Pirate Material was better, but A Grand Don't Come for Free is damn good.

———————————————————



13. Mirah
C'mon Miracle
(K)
C'mon Miracle is like a Cat Power record for the less depressed. It's her most mellow release to date and one of her most accomplished. It was also the best record to come out of Olympia, Washington this year.

———————————————————



12. The Von Bondies
Pawn Shoppe Heart
(Sire)
It's so hard to write about The Von Bondies without mentioning Jason Stollsteimer's fist fight with Jack White. Remember? Jack and Jason used to be buddies. They even recorded together sometimes. Then Jack White punched him in a drunken stupor, ending their friendship for the foreseeable future. "The punch" was the best thing that ever happened to The Von Bondies. A press agent's wet dream. Pawn Shoppe Heart is their post-punch record and we're happy to see how good this band is becoming. Our advice: take another punch, Jason, Pawn Shoppe Heart didn't get the press it deserved.
———————————————————



11. Devendra Banhart
Rejoicing in the Hands
(Young God)
Devendra Banhart is all arty-farty and shit and doesn't wear shoes on stage but what can we say…. his avante folk is growing on us. There wasn't a prettier song this year than "The Body Breaks." Is "exciting folk" an oxymoron? Not anymore.
———————————————————



10. Comets on Fire
Blue Cathedral
(Sub Pop)
This record rules. A blissful hour of retro psychedelic noise that will leave you feeling like you're stoned, sixteen, and at some crazy laser show with Hendrix, Zeppelin, and Floyd pumping simultaneously through the speakers.

———————————————————




9. Squarepusher
Ultravisitor
(Warp)
Squarepusher (AKA Tom Jenkinson) has been producing consistently strong IDM for so long now that most people forgot about him in 2004. We didn't. Ultravisitor is a great release, showing Jenkison at his tightest, if not most innovative. This is Bitches Brew for laptop geeks. Jenkinson incorporates his own live drumming this time around and features a photo of himself on the cover, proving once and for all that he is definitely not a robot.

———————————————————



8. Camera Obscura
Underachievers Please Try Harder
(Merge)
Camera Obscura sound like Belle and Sebastian. Thankfully, they're more successful than any other band at cribbing that signature B&S sound. The cover image (which combined with the title seems dated in a Nineties, geek-chic way) was in fact taken by B&S frontman Stuart Murdoch. Not surprisingly, they're also from Glasgow. We'd hold all of this against them, of course, if their record wasn't so wonderful. They're derivative, but give them a chance. They're also REALLY good.

———————————————————



7. Danger Mouse
The Grey Album
(self-released)
It truly takes talent to make Jay-Z sound good. Danger Mouse accomplished this seemingly impossible feat. Sure, remixing The Black Album with The White Album is gimmicky, but the gimmick worked. The Grey Album made Danger Mouse a household name for the indie set in 2004, while waving the proverbial middle finger at the record industry's intellectual property mandates. Thanks for the free download, dude. Loved the record.

———————————————————



6. Sufjan Stevens
Seven Swans
(Sounds Familyre)
Proves that indie's favorite Christian folk rocker, Sufjan Stevens, is here to stay. Greetings from Michigan: The Great Lakes State had more highlights, but Seven Swans is a more consistent record. We don't expect you to fulfill your promise to record an album for each of the fifty states, Sufjan. But we wouldn't mind if you did.

———————————————————



5. Dungen
Ta Det Lugnt
(Subliminal Sounds)
Somewhere in the woods of Smaland, Sweden, Gustav Ejstes toiled away his days working his mother's farm and his nights brewing a mix of Swedish folk, jazz, hip-hop and classic 60's pop and rock. From the distillery of these influences came Dungen, Ejstes's band and its remarkable third album Ta Det Lugnt. You'll find yourself singing along to many of the tracks on Ta Det Lugnt ("Take it Easy" in English), even though the words are in Swedish. The melodies, bearing the touches of Lennon/McCartney, are just too damn catchy. But these are not just simplistic pop ditties; there's an intensity of energy and musical expression here that is absolutely captivating. Throughout Ta Det Lugnt, Dungen prove they are experts at crafting perfect pop songs built purely to be deconstructed into beautiful chaos.

———————————————————



4. Franz Ferdinand
Franz Ferdinand
(Domino)
These guys sure are cute. The chicks were swooning. The guys all developed boy-crushes. People haven't been this sexed-up over a band since The Strokes. Luckily, their music was great too. Glasgow's Franz Ferdinand had the best guitar riffs, not to mention the best band name of the year. (Franz Ferdinand was an archduke whose murder helped incite WWI). The band's anthem "This Fire" could inspire a drunken mob to revolution. Come on, we're waiting.

———————————————————



3. The Arcade Fire
Funeral
(Merge)
OK, OK….. we agree. Funeral is really good. Take a reality pill, though. You'd think the from reading the press that The Arcade Fire have diamonds in their shit. Pick Funeral up if you haven't heard it. It's a bit melodramtic, but in a good way. An exciting debut and we can't wait to hear more. Another record this good and they will sincerely deserve the accolades.

———————————————————



2. Fiery Furnaces
Blueberry Boat
(Rough Trade)
Their shit may be made of diamonds (see Arcade Fire above). The brother and sister duo known as Fiery Furnaces are giving Meg and Jack a run for their money as the best brother/sister band. Blueberry Boat is as experimental as it is melodic. As accomplished as it is fun. Don't miss this record because it's great. What sophomore slump? This is proof that "difficult" music doesn't have to be a toil to listen to. (Read our interview with the band)

———————————————————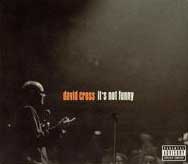 1. David Cross
It's Not Funny
(Sub Pop)
Despite the stellar exceptions above, we were bombarded with an overflowing used bin of uninspired releases this year. Where was this year's timeless gem? Why does hip hop still suck? What record from 2004 will our kids be listening to?
This is why we decided to pick a comedy album as our favorite of the year. After all, we can't award mediocrity. This is a plea for better, more compelling, more mind-blowing music in 2005! Start working on this, ok?
At least David Cross inspired us this year. It's Not Funny is unbridled comic genius. If you haven't heard it yourself, run to the store and purchase it. Now.
Thanks David, for making us laugh this year. You complete us.

———————————————————
Best Compilations



Various Artists
DFA Compilation #2
(DFA)
If you're not familiar with DFA, you haven't ever been to this site before. We love this label. This 3 CD collection featuring LCD Soundsystem, The Rapture, Black Dice, and new DFA artist Liquid Liquid is essential. A fantastic compilation.


Various Artists
Where Will You Be Christmas Day?
(Dust To Digital)
From the label that brought us the stellar gospel box set Goodbye Babylon, comes the best holiday record in years. If you want to scream every time you hear "Rudulph" and "Sleigh Ride," pick up this compilation of obscure folk, blues, gospel, and early jazz non-classics from the Thirties and Forties. After one listen, even the most jaded will once again love Christmas. Where Will You be Christmas Day is an essential record for anyone who has ever worked in a mall, a coffee shop, or any other place where they play crappy, generic, maddening Christmas mixes all day. Find out more here.
We hear that "The Late Great Daniel Johnston: Discovered Uncovered" is WONDERFUL from critic and FREEwilliamsburg friend Kevin Kraynick of catch.com fame. Sadly we have not heard it yet.
———————————————————
Honorable Mention



Panda Bear
Young Prayer
(Paw Tracks)
A lovely, avant folk homage to the artist's father. We wanted to include Panda Bear in our year end tally. Unfortunately, 26 is a weird number for a Best of list.



We also wanted to include Venice by Fennesz, but 27 is an even stranger number for a Best of list.

———————————————————
Dishonorable Mention


Brian Wilson
SMilE
(Nonesuch)
Come on… it just wasn't very good.

———————————————————
The Not-Innovative-Enough-for-Pretentious-Critics Award



Tortoise
It's All Around You
(Thrill Jockey)
This record is solid and features the Chicago super group in peak form. Tortoise does sound like they're stuck in a time warp, but who cares if the music is this good? Ignore all critics (except us) and buy this record.

———————————————————
The George Bush Divide-the-Nation Award:



Joanna Newsom
The Milk-Eyed Mender
(Drag City)
People either love Joanna Newsom or hate her. Her childlike vocals both infuriate and inspire. At least we can all agree on one thing: she's cute. Love her or hate her, Newsom's record was an indie sensation this year. (Read our interview with Joanna)

———————————————————
The Ruined by Inane Skits Award:


Kanye West
The College Dropout
(Roc-A-Fella)
Shut-up with the effin skits already, Kanye. This record could have been pretty good.

———————————————————
Most Overrated




Loretta Lynn
Van Lear Rose
(Interscope)
Are we the only people who think Loretta Lynn singing along to Jimmy Page riffs is a little embarrassing? Stop now, Loretta, while your legend remains intact.
———————————————————

Best Live Record



Neko Case
The Tigers Have Spoken
(Anti)
Neko has the best voice in indie rock. Period. She needs no studio enhancements. She's the real deal. This collection of live recordings proves what we've known all along, Neko is this generation's Loretta Lynn. Plus, she's hot.
———————————————————

The Worst Indie Record of the Year



Liars
They Were Wrong, So We Drowned
(Mute)
Listening to They Were Wrong, So We Drowned is a grueling experience. The drunk, chaotic, post-punk sounds of earlier Liars recordings have been replaced by a droning, pulsing, electronica-filled mess of a record. People who like to listen to music because it's "challenging" may like this record. We just don't believe those people really exist.
———————————————————
PS: Wilco would have made our best of list this year if they'd been less pretentious.
———————————————————
Shameless self promotion:
Check out the follow-up to The Hipster Handbook:


"Another funny and strangely insightful contribution to our culture from Robert Lanham, the Margaret Mead of the North American Weirdo."
–Neal Pollack
*************************************************
FREEwilliamsburg thanks all of the critics involved in this year's tally. Especially John Rickman, Alexander Laurence, Mandy Novak, and Jason Bell.