The first four digitally remastered recordings by our favorite Krautrockers, Can, were released to, frankly, not nearly enough fanfare. After all, this weirdo quartet of Cologne hippies influenced everyone from Brian Eno to Tortoise to Stereolab to Comets on Fire. Their long-form, improvised ambient funk merged jazz with rock. More importantly, Can was among the first to experiment with electronic improvisation.
If you're a newcomer to their work, start with 1971's Tago Mago. 1972's Ege Bamyasi is equally rewarding, if not as immediately accessible. Soundtracks is an important record as well, but mainly for the people already familiar with Can's work. Their debut, 1969's Monster Movie is the only Can record to feature vocalist Malcolm Mooney (who later had a legendary nervous breakdown). It's a more straightforward rock album, but the 20 minute "Yoo Doo Right" hinted at what was to come.
The release of the remainder of their catalogue is scheduled for 2005 and 2006. We can't wait to for the reissue of Future Days, their most lovely and essential record.

Dino Felipe – "I'm You" (Asphodel/Schematic)
http://www.asphodel.com/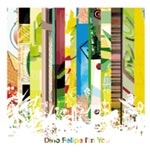 Listening to Dino Felipe's new 26-track full-length "I'm You" for the first time is a lot like opening up a well-shook can of soda pop that springs forth a carbonated splatter of punk-tones and noise funk. Felipe's brand of digital bebop appeals mostly to whiz kids with short attention spans, the computer music-obsessed, and the plunderphonically-inclined, but is uniquely artful and personal.
Like a musical re-animator, Felipe creates abstract electronic compositions by stitching together vocal snippets, fancy-pants digital audio software-sequenced synth sounds, classic 8-bit circuitry, and dinky drum machines. Each Frankenstein monster on "I'm You" has its own special temperament and twitches in time to its own individually programmed tempo.
The many intimate mutations and wig-outs on "I'm You" present infinite twists and turns and dramatic segues. Their brief and numerous natures keep things interesting, but the casual listener might misconstrue it all as aimless clutter. However, it's these tracks that most ignite the imagination and best reflect the artist's personality and sensitivity.
The disc's few beat- and melody-oriented creations, like all good electronic pop songs, are slightly robotic and particularly peppy. "The Orange Field" offers a brief respite from Felipe's spastic sound surgery, with a chill toe-tapping groove that's
sublimely smooth. The oddly titled "uVVu & climb" really percolates and Felipe even lends his own voice to the electro-funk confusion of "Steamy Halls".
Dino Felipe's music is very celebratory and engaging, and draws the listener close. It's his world, but the title "I'm You" suggests he wants it to be your world too.
Johnathan Rickman
Asmus Tietchens / David Lee Myers – "60:00" (Line)
http://www.12k.com/line/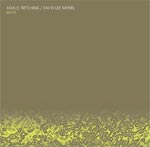 "60:00" is the fourth collaboration between Asmus Tietchens and David Lee Myers, two true pioneers of modern electronic music. Tietchens, a German artist known for his electronic musique concrete compositions, is the duo's primary sound manipulator and arranger. New York City's Myers, a.k.a. Arcane Device, is the duo's primary sound provider — yielding, as always, aural whatnots from his homemade electronic feedback machines.
Unlike their previous collaborations, which were exceptionally dynamic and exhibited a wide range of movement and sound, "60:00" applies a subdued palette of disembodied overtones in a meditative manner and as an environmental experiment that, in keeping with the times, is canvassed in a shroud of silence.
The disc's six untitled tracks reveal a jazz of minutia that glitch about within a backdrop of tinted shade and shadow. Sweeping traces of microscopic drones ebb and flow and create a temperate degree of tension throughout.
The textures in the second untitled track have a stylistic drip-and-bump reminiscent to the humorous, staged bits between the three movements of Pink Floyd's "Alan's Psychedelic Breakfast". What sounds like someone shuffling about the kitchen is actually a ghostly dance of incidental electronic detritus.
This newest collaboration succeeds where the others didn't in that it better expresses a sense of multidimensional space. Previously, the duo cast their manipulations within an artificially created sound environment saturated in reverb and other depth-deceiving effects.
On "60:00," however, Tietchens and Myers simply allow each one of their handcrafted micro-sounds to frolic naked within the three-dimensional confines of the playback environment — rewarding the attentive listener with a rare glimpse into the future of minimal sound art, and providing the passive listener with new surround-sound hallucinations.
Johnathan Rickman
Recent Must-Have Releases



• Camera Obscura
Biggest Bluest Hi-Fi
(Merge)
The debut record by Belle and Sebastian's closest niece. Biggest Blue Hi-Fi isn't quite as catchy as the near-perfect Underachievers Please Try Harder, but it's still pretty damn good.
• Neko Case
The Tigers Have Spoken
(Lost Highway)
A beautiful live record by Alt Country's queen, Neko Case. Proves that her voice doesn't need studio enhancement to be magical. Neko Case is this generation's Loretta Lynn.
• Dungen
Ta Det Lugnt
(Subliminal Sounds)
Olivia Tremor Control was pretty cool. Swedish band, Dungen fucking rule. They are immediately catchy and will make Elephant Six fans giddy.
• The Go! Team
Thunder, Lightning, Strike
(Memphis Industries)
Like a more accomplished, The Avalanches, The Go! Team are a party band with influences ranging from hip-hop, to funk, to Le Tigre, to Hawaii Five O. We're not sure if we'll be listening to this record in a few years, but for now we're content to shake our asses.
• Various Artists:
DFA Compilation #2
(DFA)
If you don't know what DFA is, you haven't ever been to this site before. We love this label. This 3 CD collection featuring LCD Soundsystem, The Rapture, Black Dice, and new DFA artist Liquid Liquid is essential.