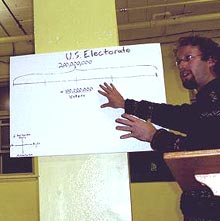 By Johnathan Rickman
DC Progressives Join Heads
How can progressives and political activists best work together to build a viable third party that adequately expresses their shared values and convictions, and what is the best way to oppose another four years of regressive Bush administration policies both domestic and foreign?
Those questions were debated on November 11 between rows of fold-out chairs in a church basement in the nation's capital at a public forum hosted by the DC chapter of the International Socialist Organization (ISO).
The forum featured four speakers from four different organizations: Ben Dalbey of the ISO, Jay Marx of the DC Statehood Green Party (DCSGP), Niyi Shomade of the Ralph Nader 2004 presidential campaign, and Shahid Buttar of the DC Spokes Council.
Coke Vs. Pepsi
Ben Dalbey kick-started the event by asking rhetorically how on earth a president with only a 49 percent approval rating could waltz to victory.