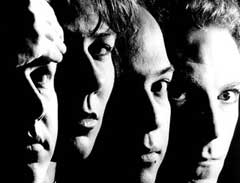 If you weren't lucky enough to get tickets to one of the Pixies' shows this week at the Hammerstein Ballroom, check them out tonight on David Letterman. We frankly don't know where they found the time to stop by and say hello to Dave. The band is slotted to play eight sold-out shows this week already.
Letterman airs 11:30PM EST on CBS.
Here's Jason Bell's review of their show last night (with set list):
The Pixies, Hammerstein Ballroom, 12.13.04
With eight nights of shows, plenty will be said about the Pixies residency at the Hammerstein Ballroom, so I'll keep this brief. Last night was hands down the best show I've seen all year. Charles was in fine form, his voice an amazing instrument of humor and sheer madness. "Tame" was epic; the highlight of the set for me.

Two songs into their show, something strange happened. The entire band left the stage, supposedly to solve a monitor problem, but nobody bought that argument. We were beginning to think we were witnesses to the second end of the Pixies. Maybe five minutes went by with nothing happening on the stage, no announcements. Fortunately, our fears were misplaced as the band came back on stage, joked about playing "one more song" and then launched into a blistering version of "Bone Machine". It was on.
I was there early so I saw Mission of Burma's full set. They did their best to warm up the crowd, but a muddy mix and some Red State idiots in the audience seemed to put a damper on the set. I actually heard someone yell out "COMMUNISTS" after one of the band members made a crack about George Bush. Weird.
One last thing. David Byrne was in the house, sitting in the first level of the VIP box seats. He was wearing a bright red jump suit, which made him look like a hipster astronaut. Now, a Talking Heads reunion, that would be…special!
Here's the Pixies setlist, courtesy of the Pixies Music Forum:
Is She Weird? / Something Against You / [break] / Bone Machine / Cactus / I Bleed / Caribou / No. 13 / Broken Face / U-Mass / Mr. Grieves / Dead / Hey / Velouria / Ed is Dead / Gouge Away / Wave of Mutilation / Monkey Gone to Heaven / Crackity Jones / Isla de Incanta / Tame / In Heaven-Wave of Mutilation (UK Surf) / Here Comes Your Man / Holiday Song / Nimrod's Son / Vamos / Where Is My Mind?
Encore: Gigantic / Debaser
—JASON BELL