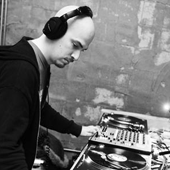 Morgan Geist is the coolest DJ in New York. He's responsible for the amazingly popular remix of The Rapture's "House of Jealous Lovers." He's the founder of his own label, Environ Records. He's one half of the duo known as Metro Area who released our favorite electronic record of 2002. He regularly spins at Apt and other hip clubs where the "I'm not a hipster even though I look like one" crowd can be found. And he just released a new collection of Italo disco from the 70's and 80's called Unclassics.
Despite Geist's inability to license all the tracks he'd originally intended to include, Unclassics effectively functions as a bizarro companion disk to any 70's disco hits that features overplayed classics like "Y.M.C.A" and "Shake Your Groove Thing." The dark underbelly of a K-Tel comp. Nevertheless, you will shake your groove thing when listening to Unclassics. The 32-year-old Geist was born in Jersey and currently lives in Brooklyn. He agreed to answer a few of my questions early in 2005 after I confessed to including Metro Area on my wedding mix.
1. What is Italo Disco and how did you get into it?
There are many definitions of "italo disco." When I got into dance music, I thought it was Irma and DFC, "Ride On Time" and Soft House Company, "What You Need" and "A Little Piano." Some will say that's Italo house or Italo pop. Whatever. I guess the important thing is my personal area of interest, which spans from about '77 to maybe '85 or so. It starts with more organic sounds that copy US soul/disco and then I eject right around when digital technology starts taking over. That's when the stuff took a nosedive, in my opinion.
2. Where do you find your music?
Used record shops. There are too many amazing unknown records to be found to get hung up with eBay or expensive dealers. I want to play records, not collect them.

3. I see that Environ began in Oberlin, Ohio. Did you go to Oberlin College?
I did, and I did my first few records in my dormroom (this was before laptop studios, mind).
I feel I owe almost nothing to Oberlin as a school for my career. It was next to impossible to take conservatory courses (especially electronic music) as a college student. Aside from (literally) two or three people working at the bookstore and radio station, I had to turn to Detroit and Chicago to get my dance music education. No one cared about it during my years at Oberlin—the closest you got was what was then called "progressive house," which was really not my thing.
4. Will there be another Metro Area record in 2005?
There will be "Metro Area 6″ in February 2005. It's a 12" only. I have no idea when the new full-length will come out. We'll see if we can survive until then. Pretty tough with everyone sharing our stuff for free.
5. Anyone in the public eye you want to say "you suck" to?
No, life's too short!
6. What's you favorite New York restaurant? Bar?
I don't really go to bars. Restaurants – lately, a couple down-home spots that come to mind are DiFara's and Totones in Brooklyn, Empire Grand Sichuan in Chelsea and a killer Banh Mi place I'm addicted to on Mulberry.
Check out www.environrecords.com for DJ dates and release dates