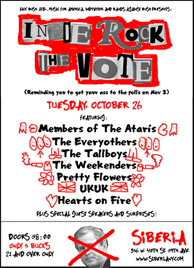 Lick Bush Ltd., Music For America, Bands Against Bush
and IndyVoter present.
INDIE ROCK THE VOTE
Reminding you to get your ass to the polls on Nov 2nd
Tuesday, October 26, 7:30 p.m.
Siberia, 356 W. 40th St./9th Ave.
$5
Featuring: Members of the Ataris, The Everyothers, The
Tallboys, The Weekenders, Pretty Flowers, Starchild,
UKUK, Hearts on Fire and Emma La Reina, plus guest
speakers and surprises.
More information: 718-670-3707 or rncprotestparty@yahoo.com.