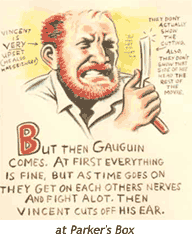 I come from a long line of failures, reprobates, drunks, self-absorbed losers, and cowards. As a young Keane Pepper, I often imagined growing up to be a banker and starting a family just so I could leave them to paint nubile islander girls.
Sometimes I would dream about contracting syphilis from a French whore and begging for money from a rich patron to support my opium addiction. Ah, how I loved to read biographies about my favorite artists. I remember watching "Lust for Life" in 8th grade art class and hoping my life would be just as fucked up as Vincent's.
Somehow, sitting here in my boxers, half-drunk on cheap beer trying to exorcise a two day, hangover and the dismal returns on the election I realize that I have not fulfilled my dream. I promised myself that if Bush were elected (he certainly wasn't re-elected), I would challenge my mediocrity and fully commit to a life of artistic poverty and misery.